Mystic Mouse Emporium
Regular price
$175.00 USD
Regular price
Sale price
$175.00 USD
Unit price
per
Sale
Sold out
Purple Moss Agate is said to encourage growth, fertility, and abundance, as well as boost your creativity and optimism.
Moss Agate is also a protective stone that can shield you from negative energy. It is grounding and can help keep you connected to the physical world.
Moss Agate can create harmony in your life. If you feel like everything is a mess at work and with your personal life, this crystal can help you make sense of things and figure out just what you need to do. It will make you feel confident even if things are not going well right now. Moss Agate will get rid of the stresses of your lifestyle or the pressures of society. This crystal will allow you to take a step back and relax a little. You work hard, so you deserve a proper break as well.
The grounding influence of this crystal will help you maintain your connection to the earth. It can help you develop your intuition and it can make you more aware of the things that are going on around you, both seen and unseen.
Moss Agate can also help remove addictive behaviors that are keeping you in a vicious cycle. And it will protect you from the negative effects and consequences of your actions by building up your faith, confidence, and strength.
If you are looking for a change and bigger challenges, Moss Agate can amplify the energy of your intentions and help you achieve your personal goals!
Purple Moss Agate carries a peaceful and stabilizing energy. It can help connect you to nature and experience the abundance of the universe.
This Purple Moss Agate tower is about " tall and comes charged and ready for you.
Share
View full details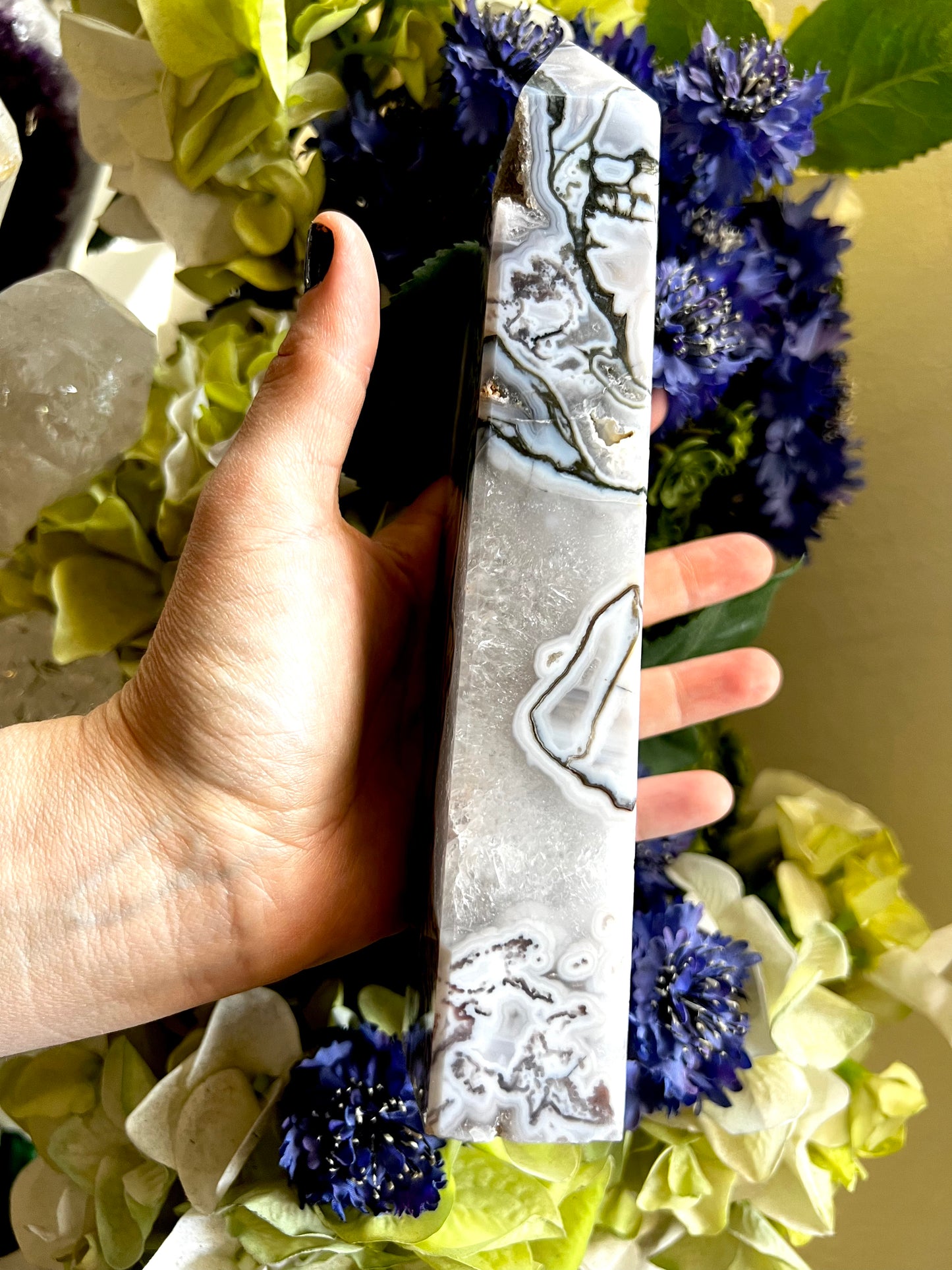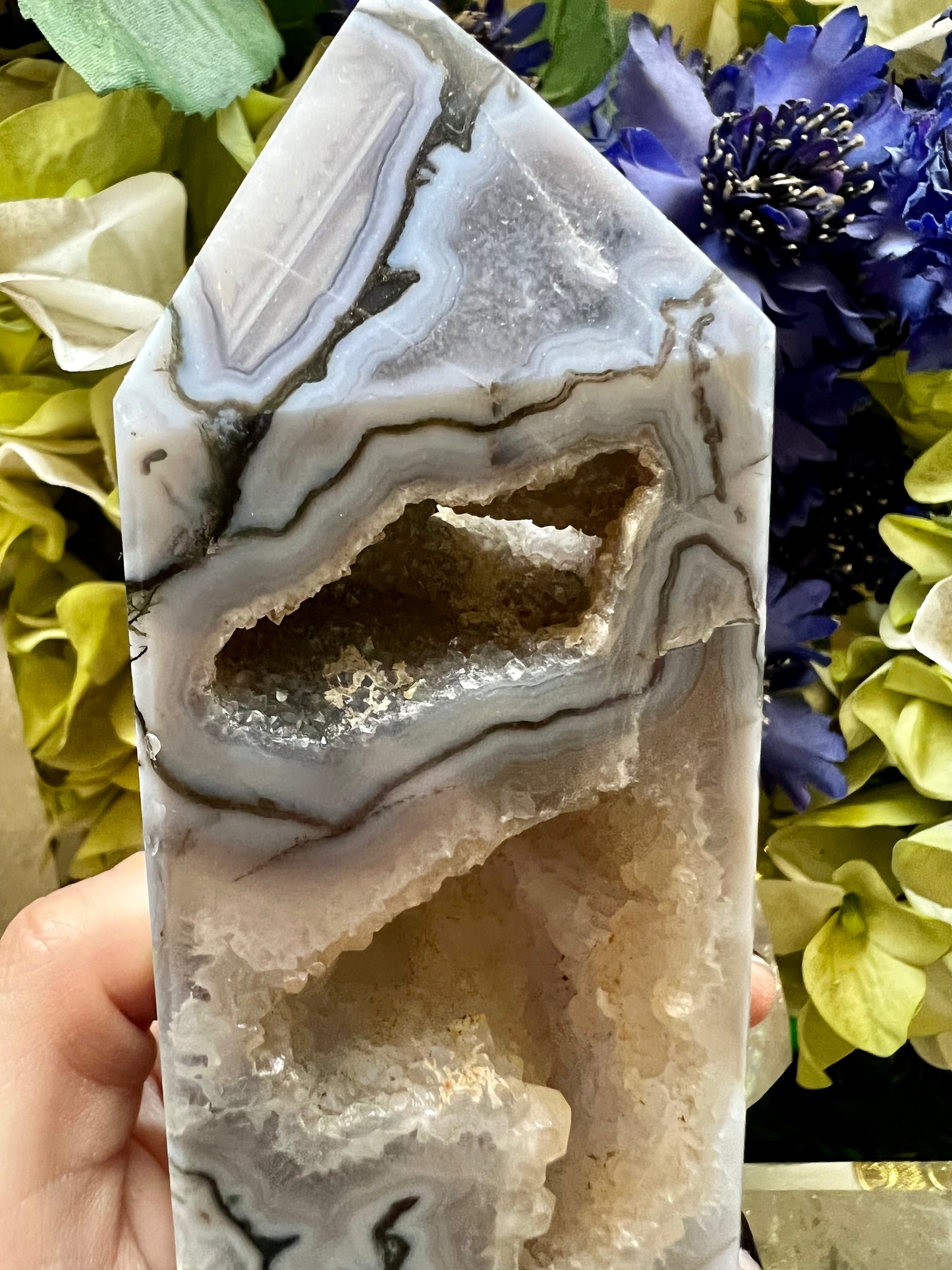 Reach out!
What's the difference between the Ritual Body & Hair Oils and the Beard Oils?

Great question! Both are made with non-comedogenic cold pressed oils and can be worn by any gender on your hair, beard, body, or rubbed on candles or ritual items. The beard oils have no herbs, roots, or plant matter in them. The oils used in the beard oils are a bit thinner in consistency and I specifically formulated it to make hair soft and touchable. The Ritual Hair and Body Oils contains herbs and flowers and the oils I have used are a thicker consistency, while being fast absorbing, making it a great moisturizer. Both formulations contain tiny crystals and both smell amazing. I have done lots of research and testing to find the very best combinations of high quality ingredients that your skin and nose will love. Add to that, the love and energy each hand-poured bottle of oil receives, and you'll fall in love with each recipe.
What's in each bottle of oil?

Each bottle of oil is hand-poured and made with natural ingredients, cold pressed oils, herbs, flowers, roots, and crystals
I want an Intention oil but I want a different fragrance!

The fragrances and oils I choose for a particular blend are specifically chosen to align with that specific intention, but message @mysticmouseemporium on Instagram and I'll try to make you something special
I'm looking for a specific crystal! Do you have it?

I have lots of crystals and beautiful pieces that I don't have listed on the website. If you're looking for something, chances are, I have it!…..so reach out to me, and I will send you some options!