Mystic Mouse Emporium
Regular price
Sale price
$24.00 USD
Unit price
per
Sale
Sold out
This Hair & Body Ritual Oil is made in ritual and charged with Reiki by me
This Lilith oil is charged under the Dark Moon to make you feel powerful, sensual, empowered, strong, and sexy
Lilith embodies unbridled freedom. Stop saying I'm sorry, stop being afraid to take up space, stop being afraid to be yourself! Lilith teaches us to embrace who we are and to take up space, to speak up, to feel empowered, to feel beautiful and free from the worry of being judged!
Each bottle is hand mixed and hand filled and made with natural cold-pressed oils that moisturize and absorb easily.
Lilith will make you feel confident and strong. Drop a few drops of this oil on my protection candles to invoke Lilith's protection.
Each bottle contains tiny pieces of garnet, carnelian, amethyst, red jasper, and black obsidian…..as well as peony flowers, roses, mugwort, and other herbs and essential oils that Lilith loves.
Lilith Oil smells like Lilith's favorite scents of fresh Apples and blossoming Peony with a hint Roses.
You can use this oil on your skin, on your hair, everyday as a perfume, or to dress and charge candles for ritual use. Invoke the power of this strong, beautiful Goddess
Each glass bottle is 2oz and comes with a dropper top. Shake your bottle before applying to mix up all of the beautiful natural mica inside and activate it.
I am certified in Usui/Tibetan and Holy Fire III Reiki.
Each bottle comes charged with Reiki and intention and is ritually made on the New Moon!
Share
View full details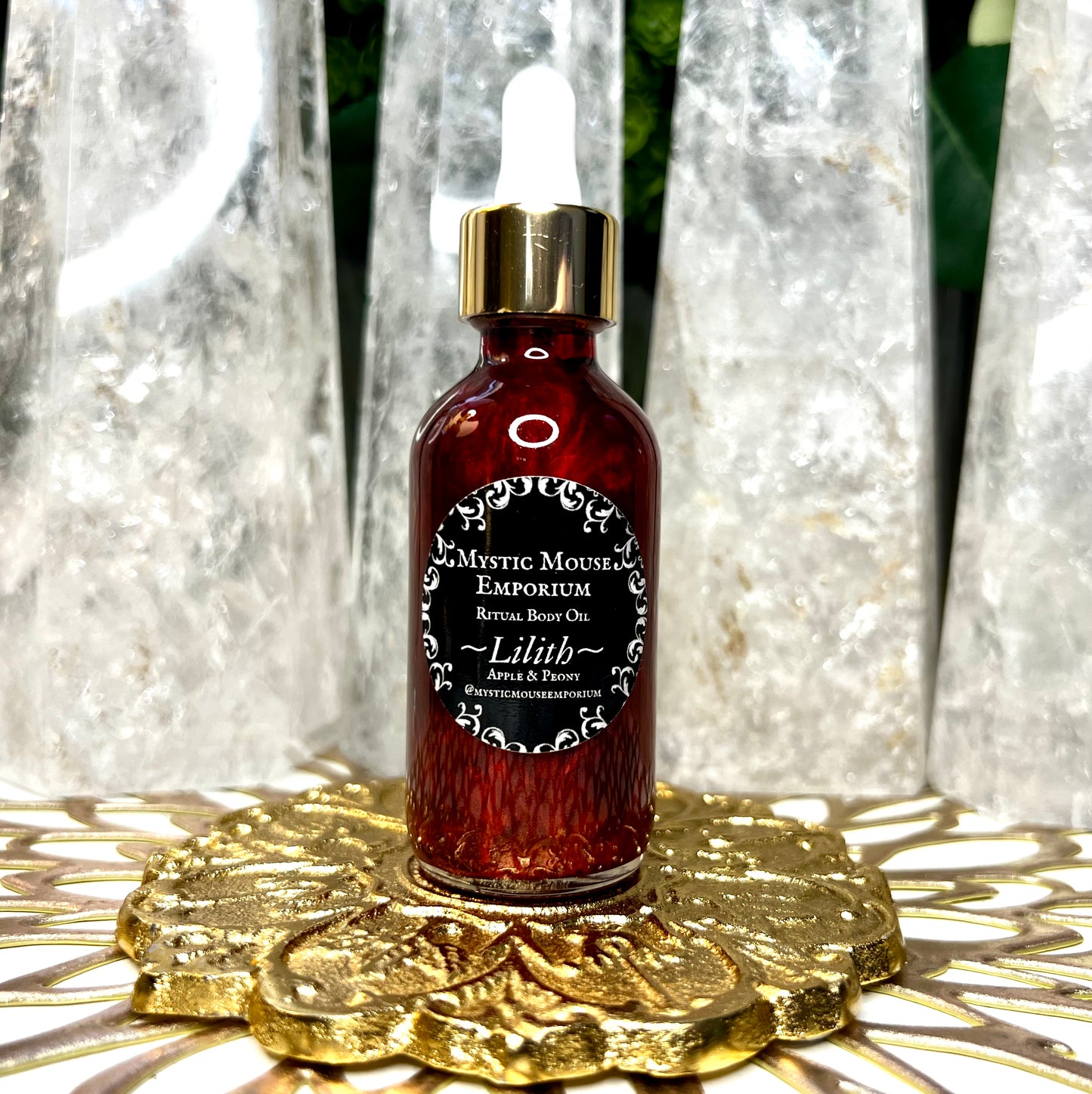 Reach out!
What's the difference between the Ritual Body & Hair Oils and the Beard Oils?

Great question! Both are made with non-comedogenic cold pressed oils and can be worn by any gender on your hair, beard, body, or rubbed on candles or ritual items. The beard oils have no herbs, roots, or plant matter in them. The oils used in the beard oils are a bit thinner in consistency and I specifically formulated it to make hair soft and touchable. The Ritual Hair and Body Oils contains herbs and flowers and the oils I have used are a thicker consistency, while being fast absorbing, making it a great moisturizer. Both formulations contain tiny crystals and both smell amazing. I have done lots of research and testing to find the very best combinations of high quality ingredients that your skin and nose will love. Add to that, the love and energy each hand-poured bottle of oil receives, and you'll fall in love with each recipe.
What's in each bottle of oil?

Each bottle of oil is hand-poured and made with natural ingredients, cold pressed oils, herbs, flowers, roots, and crystals
I want an Intention oil but I want a different fragrance!

The fragrances and oils I choose for a particular blend are specifically chosen to align with that specific intention, but message @mysticmouseemporium on Instagram and I'll try to make you something special
I'm looking for a specific crystal! Do you have it?

I have lots of crystals and beautiful pieces that I don't have listed on the website. If you're looking for something, chances are, I have it!…..so reach out to me, and I will send you some options!