Mystic Mouse Emporium
Regular price
Sale price
$24.00 USD
Unit price
per
Sale
Sold out
The King of Wands is a natural-born leader, exuding confidence and determination. His natural drive attracts positive attention, but his friendly and confident nature is what really makes people stick around. He is persuasive and puts this quality to good use by helping others be their best selves. A natural-born leader with an entrepreneurial spirit, this creative king is always solving problems through innovation. He always has a clear purpose and direction despite having all the energy of a glowing wildfire, but his biggest strength is that he is able to see situations from all angles. Is the King of Wands wildly delusional or brilliantly forward thinking? Is he charismatic and charming, or egotistical and arrogant? Yes to all of the above! When you think of the King of Wands, think of founders of companies that change and revolutionize society. Both are able to see the direction the world is heading in before anyone else due to their unique perspectives, bold ideas, and long-term views.
This 2 oz dropper bottle is hand-filled with high quality cold pressed oils and tiny pieces of crystals. My beard oils can be worn by any gender on your hair, skin, or beard. It is light weight and high quality. Each bottle is hand poured, contains crystals, and smells fantastic. The Kings of Wands smells like sensual warm vanilla co-mingling with intoxicating tobacco. Each bottle contains tiny bold, fiery, confident crystals including Carnelian, Mookaite, Tigers Eye, and Obsidian. Fall in love with this sensuous scent and ignite your passionate King of Wands energy.
Fragrance: Sensual Vanilla and Sweet Tobacco
Share
View full details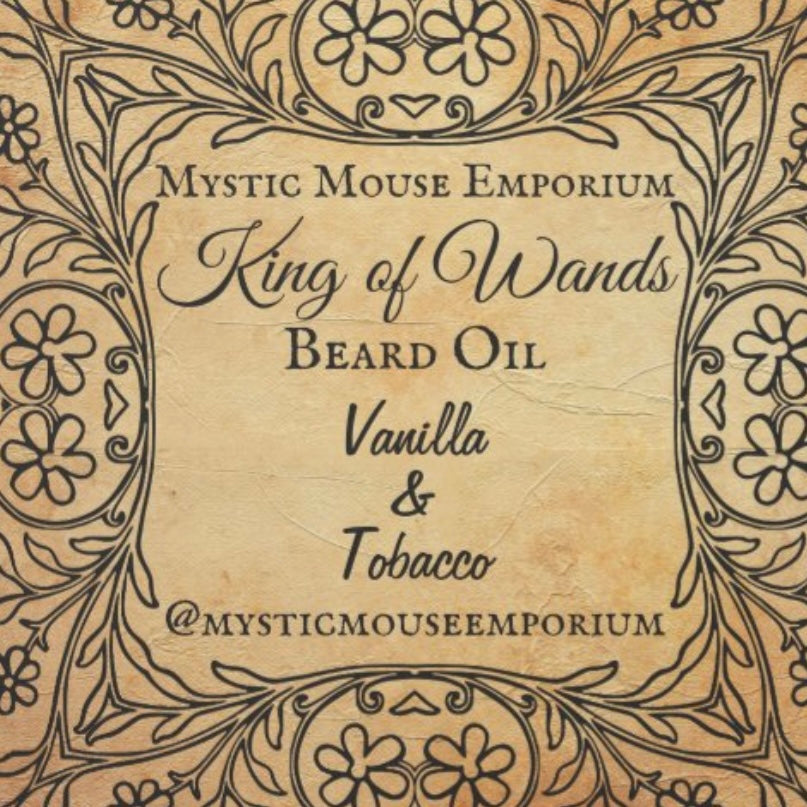 Reach out!
What's the difference between the Ritual Body & Hair Oils and the Beard Oils?

Great question! Both are made with non-comedogenic cold pressed oils and can be worn by any gender on your hair, beard, body, or rubbed on candles or ritual items. The beard oils have no herbs, roots, or plant matter in them. The oils used in the beard oils are a bit thinner in consistency and I specifically formulated it to make hair soft and touchable. The Ritual Hair and Body Oils contains herbs and flowers and the oils I have used are a thicker consistency, while being fast absorbing, making it a great moisturizer. Both formulations contain tiny crystals and both smell amazing. I have done lots of research and testing to find the very best combinations of high quality ingredients that your skin and nose will love. Add to that, the love and energy each hand-poured bottle of oil receives, and you'll fall in love with each recipe.
What's in each bottle of oil?

Each bottle of oil is hand-poured and made with natural ingredients, cold pressed oils, herbs, flowers, roots, and crystals
I want an Intention oil but I want a different fragrance!

The fragrances and oils I choose for a particular blend are specifically chosen to align with that specific intention, but message @mysticmouseemporium on Instagram and I'll try to make you something special
I'm looking for a specific crystal! Do you have it?

I have lots of crystals and beautiful pieces that I don't have listed on the website. If you're looking for something, chances are, I have it!…..so reach out to me, and I will send you some options!