Mystic Mouse Emporium
Regular price
Sale price
$24.00 USD
Unit price
per
Sale
Sold out
Around the world, bluebirds have a wide variety of associations, all of which carry positive connotations. Some believe the bluebird is a symbol of joy and hope while others believe that good news will be arriving soon. The bluebird is a symbol of hope, love, and renewal. It symbolizes the essence of life and beauty. Dreaming of bluebirds often represents happiness, joy, fulfillment, hope, prosperity, and good luck. A bluebird flying around the house is a sign that someone will bring news of a promotion or raise at work. Because bluebirds have a melodious voice, they're symbolic of music and passion. They have a positive spirit and keep the negative energies at bay. Even in the harshest climates, when food is scarce, these birds still manage to sing cheerfully. It is a sign that you should never lose faith, even in your darkest hours. You must hold on to the belief that in the end, it will all be alright. Bluebirds also stand for the inner child in all of us. They remind us that while the world might be a cruel place, you should never lose your kindness and innocence because these are the traits that make you a better person. The genial spirits of bluebirds can make even the dullest moments of your life seem merry. You should call upon them for guidance when you've been low for quite some time and have exhausted every attempt at cheering yourself up.  Their spirit will bring a refreshing breeze into your life, filling your life with joy, laughter, and happiness.
Made will cold pressed oils, you can use this oil as moisturizer on your skin, use in your hair, use as a perfume, or dress candles for ritual work or meditation. This oil comes in a 2 oz dropper bottle and comes ritually charged and ready to use.
Filled with herbs, flowers, essential oils, crystals, Reiki, and intention, my Bluebird of Happiness Ritual Hair & Body Oil will help sweep away your blues and fill you will happiness and hope. 
Fragrance:  Fresh Lilacs blooming in the Sun
Share
View full details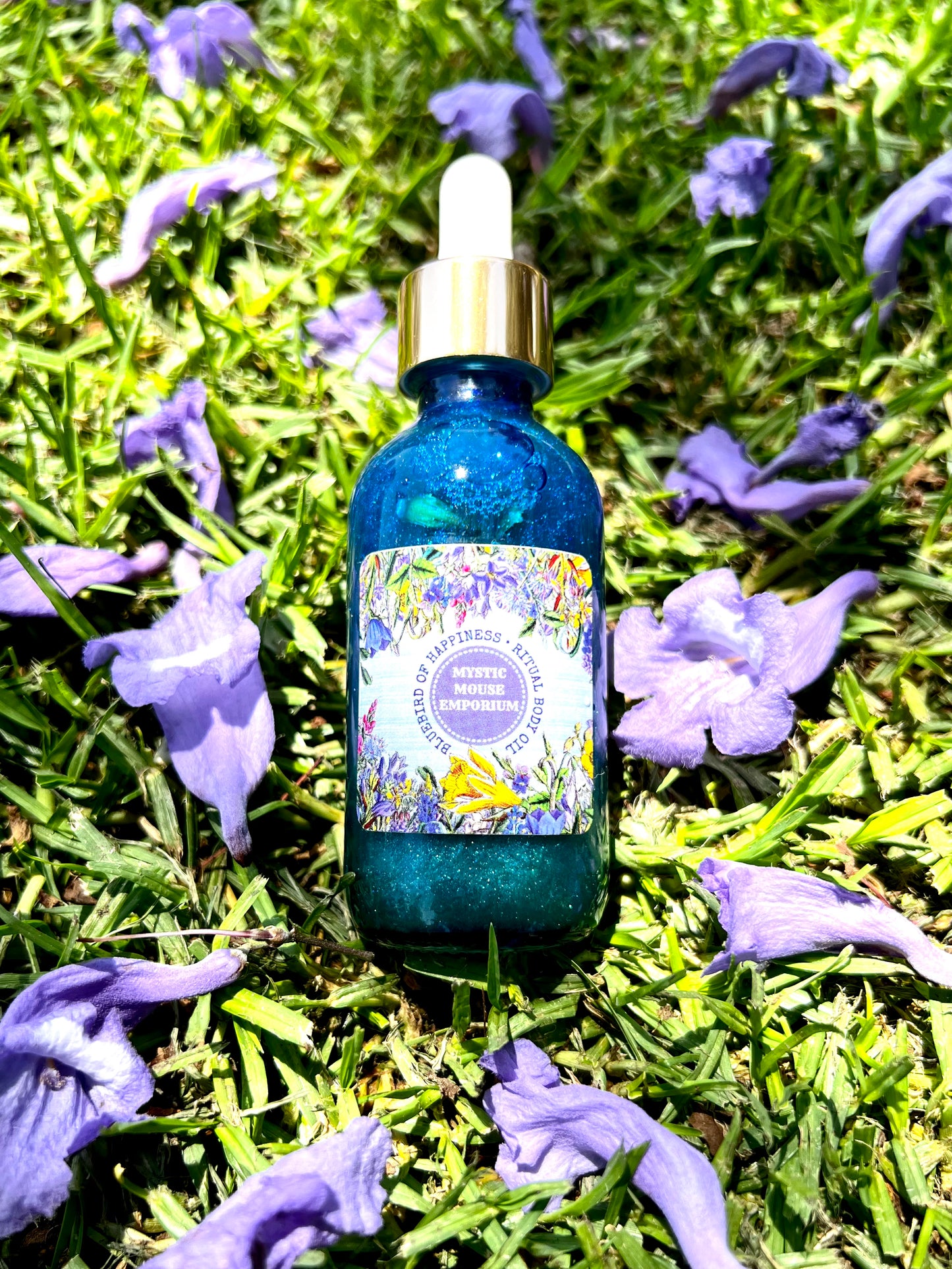 Reach out!
What's the difference between the Ritual Body & Hair Oils and the Beard Oils?

Great question! Both are made with non-comedogenic cold pressed oils and can be worn by any gender on your hair, beard, body, or rubbed on candles or ritual items. The beard oils have no herbs, roots, or plant matter in them. The oils used in the beard oils are a bit thinner in consistency and I specifically formulated it to make hair soft and touchable. The Ritual Hair and Body Oils contains herbs and flowers and the oils I have used are a thicker consistency, while being fast absorbing, making it a great moisturizer. Both formulations contain tiny crystals and both smell amazing. I have done lots of research and testing to find the very best combinations of high quality ingredients that your skin and nose will love. Add to that, the love and energy each hand-poured bottle of oil receives, and you'll fall in love with each recipe.
What's in each bottle of oil?

Each bottle of oil is hand-poured and made with natural ingredients, cold pressed oils, herbs, flowers, roots, and crystals
I want an Intention oil but I want a different fragrance!

The fragrances and oils I choose for a particular blend are specifically chosen to align with that specific intention, but message @mysticmouseemporium on Instagram and I'll try to make you something special
I'm looking for a specific crystal! Do you have it?

I have lots of crystals and beautiful pieces that I don't have listed on the website. If you're looking for something, chances are, I have it!…..so reach out to me, and I will send you some options!